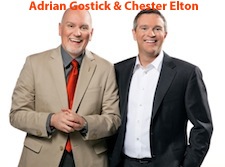 "All In: How the Best Managers Create a Culture of Belief and Drive Big Results," is a new book by Chester Elton and Adrian Gostick, authors of "The Carrot Principle."
The key is to create a culture that allows employees to become engaged, enabled, and energized. These "3 Es" create the positive environment that constitutes a "culture of belief." How? With seven simple steps:
1. Define a burning platform: Mission and values are known with great clarity and executed with a sense of urgency.
2. Create a customer focus: Put customer satisfaction on a pedestal. Too many organizations act as if a complaining customer is the enemy no matter how much they would deny it.
3. Develop agility: Are you flexible? Can you adapt? Do challenges invigorate you?
4. Share everything: Communicate without agenda, openly and freely, and with clarity and bullet points that allow others to absorb key points quickly.
5. Develop your talent: Create opportunities for employees to develop and grow. Use your organization's brain trust, its huge collective accumulation of experience and knowledge.
6. Root for each other: Be cheerleaders and coaches for each other. Celebrate, praise, acknowledge, and appreciate.
7. Establish clear accountability: Leaders have great confidence in people who quickly acknowledge mistakes and openly assume responsibility for recovery, then widely share lessons learned.
Many managers fail to fully comprehend the high degree of influence they can have on workplace engagement. Indeed, many are even a bit uncomfortable standing up and stating the beliefs they hold on the significance and dignity of work, the value of quality, or the ethical importance of rendering good customer service, value given for value received.
When managers embrace their natural roles as emotional leaders and are willing to take a positive stand, proactively teach, and actively support a culture of belief, they can have a powerful impact on morale, job satisfaction, productivity, and profitability.
Closing quotes:
"Men often become what they believe themselves to be. If I believe I cannot do something, it makes me incapable of doing it. But when I believe I can, then I acquire the ability to do it even if I didn't have it in the beginning." — Mahatma Gandhi
"The mind is the limit. As long as the mind can envision that you can do something, you can do it, as long as you really believe 100 percent." — Arnold Schwarzenegger
"A man can be as great as he wants to be. If you believe in yourself and have the courage, the determination, the dedication, the competitive drive and if you are willing to sacrifice the little things in life and pay the price for the things that are worthwhile, it can be done." — Vince Lombardi