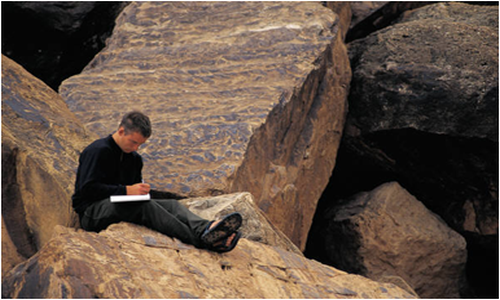 I recently attended a 3 day retreat where, among other topics, we reflected and shared what we wanted to be our Life Themes for the remainder of our time on this planet. It was a small group, 8 or so, most in their 60's and accomplished in life. My Life Themes divided in two parts: "Ground Level", my day to day priorities/activities and "50,000 Feet", who and what I want to become for even as I approach my 64th birthday, life remains an adventure and my commitment to Life Long Learning remains as strong as ever. What follows is the 2nd half of the "50,000 Feet" portion of my Life Themes, annotated.
I will Live FULLY in the Present Moment, I will Greet it as a Friend.
The Present Moment is all we really have. Yes, we must prepare for the future and learn from the past but no matter what time it is, it is always now.
Quote: "The point of power is always in the present moment." – Louise L. Hay, b. 1926
Calmness Magnifies my Strength.
I can often get excessively intense with misdirected passion, this can backfire by creating stress in myself and in others, isolating me by causing others to shut down and not tell me what I NEED to hear.
Quote: "Nothing gives one person so much advantage over another as to remain always cool and unruffled under all circumstances." – Thomas Jefferson, 1743-1826, 2nd Vice President, 3rd President, principal author, Declaration of Independence
My Sense of Self is Anchored Deep Within, From this Flows Wonderful Peace.
My goal was always to have a strong sense of SELF esteem, not be motivated or controlled by "other" esteem i.e. not be overly concerned with the opinions of others as long as I was following my North Star, my spiritual path.
Quote: "Love yourself first and everything else falls into line. You really have to love yourself to get anything done in this world." – Lucille Ball, 1911-1989
Quote: "A man cannot be comfortable without his own approval." – Mark Twain
Quote: "Low self-esteem is like driving through life with your hand-break on." – Maxwell Maltz, MD, 1889 1975, author, Psycho-Cybernetics
The Best I Can Be, I Must Be. To Give Anything Less than My Best is To Sacrifice My Gifts. 
I've always been Driven, on a Quest to find Greatness within, to hone, to polish, to refine my talents. A DEEP Commitment to Life Long Learning is foundational. Journaling is a key part of my journey of self-awareness.
Quote: "There is nothing noble in being superior to your fellow man; true nobility is being superior to your former self." – Ernest Hemingway, 1899-1961
Quote: "No matter who you are, no matter what you did, no matter where you've come from, you can always change, become a better version of yourself." –  Madonna, b. 1958
Quote: "Make the most of yourself….for that is all there is of you."  ― Ralph Waldo Emerson, 1802-1883
To Live, To Love, To Learn, To Leave a Legacy.
Ah, climbing Maslow's Hierarchy… a Life Long Journey! Balance, last and most challenging of Scott Peck's 4 Tools of Discipline (Road Less Traveled). To be the father to my son that my father was to me, to be a good person, to live fully, love without fear or reservation, to contribute, to honor the Social Contract, to give back richly.
Closing Quotes:
"Any thought that is passed on to the subconscious often enough and convincingly enough is finally accepted." – Robert Collier, 1885-1950
"You are today the result of your thoughts of yesterday, and the many yesterdays preceding it. You are forming today the mold for what you will be in the years to come." – Robert Collier, 1885-1950
"Your chances of success in any undertaking can always be measured by your belief in yourself." – Robert Collier, 1885-1950
As always, I share what I most want/need to learn. – Nathan S. Collier