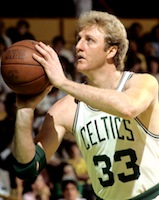 Successful people push themselves. They push themselves beyond their comfort zones, through doubts and fears. They drive themselves beyond their limits. Usually they find that the so called "limits" are just paper tigers, self-imposed barriers that quickly became new minimums of performance and ability, not maximums.
Winners, champions, achievers all know they MUST push beyond what is expected, beyond current norms, beyond the ordinary. The fullness, the richness of life lies beyond the routine, the far side of the habitual.
Closing quotes:
"Push, push, push and you will see results" — Peter Drucker, 1909-2005, author of 39 books on business and management, coined the now widely-used phrase knowledge worker.
"We are limited but we can push back the borders of our limitations." — Stephen R. Covey
"Push yourself again and again. Don't give an inch until the final buzzer sounds." — NBA All Star Larry Bird; 1956– , 3-time NBA Champion (1981, 1984, 1986), 3-time NBA Most Valuable Player (1984–1986), 12-time NBA All-Star (1980–1988, 1990–1992), 2-time NBA Finals MVP (1984, 1986), 9-time All-NBA First Team (1980–1988)