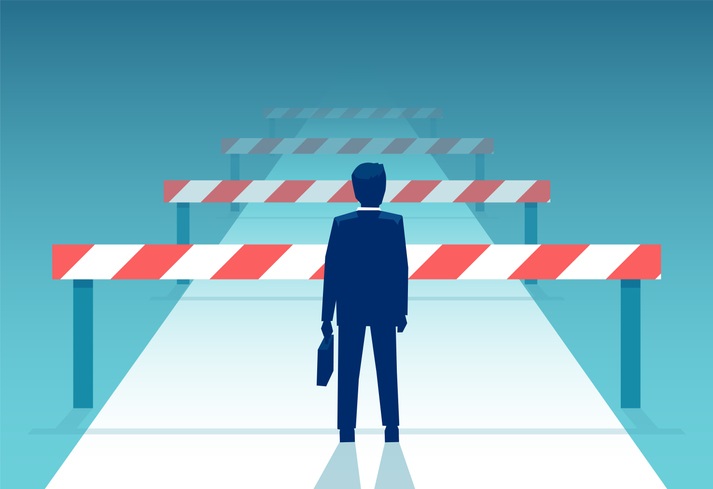 There is always something in the way of anything meaningful, anything of significance you wish to be or accomplish. If there weren't, you'd already have it or be it and most likely so would everyone else. The question, the challenge then becomes "What next?" What effective action are you willing to take in order to bring about your desired result? What is your plan? Are you committed? Dedicated? Willing to do whatever it takes? Or would you prefer to moan and groan, blame others, life, bad luck, your parents, your boss, your partner?
The truth is that obstacles do not block the path, they are the path; for with each obstacle we overcome we grow stronger.
The most difficult obstacles tend not to be the outer ones, but the inner; our all too often self-imposed limitations: "Our doubts are traitors and make us lose the good we oft might win." (Shakespeare, Measure for Measure, Act 1 Scene 4).
Beyond doubt, the next most treacherous inner obstacle is our comfort zone: Real change begins beyond our comfort zone. Rarely easy, usually well worth it. As the famous author Anonymous once said: "The comfort zone is nothing else but a graveyard for your dreams; Step so far outside your comfort zone that you forget how to get back."
Closing Quotes:
"No school develops more great leaders than Adversity University." – Khang Kijarro Nguyen
"The biggest wall you have to climb is the one you build in your mind." – Roy T. Bennett, The Light in the Heart
"Each time you try something for the first time you will grow – a little piece of the fear of the unknown is removed and replaced with a sense of empowerment." – Annette White

"(T)he world is still constantly testing us. It asks: Are you worthy? Can you get past the things that inevitably fall in your way? Will you stand up and show us what you're made of? Plenty of people have answered this question in the affirmative. And a rarer breed still has shown that they not only have what it takes, but they thrive and rally at every such challenge. That the challenge makes them better than if they'd never faced the adversity at all." – Ryan Holiday, The Obstacle Is the Way: The Timeless Art of Turning Trials into Triumph
As always, I share what I most want and need to learn. – Nathan S. Collier