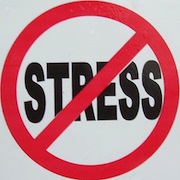 Here's a recap of secrets one through five:
#1 Re-Interpret Any Negative Experiences
#2 Cultivate an Attitude of Gratitude
#3 Written Goals
#4 Build a Solid Social Support Network
#5 EXERCISE
#6 Small Steps: Feeling overwhelmed? Break it down into small steps, attainable progress. Success is frequently the sum of small actions, repeated daily. Celebrate your micro-victories, steadily build on them.
#7 Eat Healthy, Eat Lightly, Eat Mindfully: Food is the fuel of the body and the mind-body connection is powerful. Pay attention and you will notice how food affects your blood sugar, energy levels, and moods. Anything that you ingest that impacts your body's chemical balance is a drug. Thinking of food as a mild drug will help you upgrade your eating habits and monitor your food triggers.
# 8 Sleep: Sleep is powerfully restorative. Sleep deprivation keeps you from being your best. Watch your caffeine intake, take a few moments before bed to still your mind and empty your thoughts.
#9 Journal Regularly: Journalingis a fantastic way to calm the mind, organize your thoughts, track your progress, and gain perspective on the day.
#10: Practice the Habit of Happiness: Choose to walk on the "sunny side of the street," decide to "carry the sun in your heart," resolve "whatever situation I am in, therein to be content."
And here's your BONUS:
#11 Release = Peace: The past ended last night. Let it go, let it go. Forgiveness offers everything you seek. Carry no grudges, forget judgments and grievances; remember no slights or stumbles. Let it all go, it serves you not, indeed it hinders you. Too often you attack yourself when you think angry, attack thoughts. Release your brakes, allow the burden of the past to fall away, stop hauling aroundthat heavy baggage. We are punished not for our anger but by our anger. Release = peace. Let it be, let it be gone.