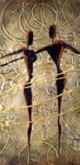 Understanding and strengthening human relationships is the theme of Harriet Lerner's book, "The Dance of Intimacy."
– Differences are rarely the true problem in relationships, rather it is our chosen reactivity to those differences and the emotional intensity we decide to invest (or not invest) around those differences. Often we feel the need to defend our differences, try to make our differences seem superior or "more right," thus other's differences wrong.
– Reactivity exaggerates and calcifies differences. The more energy we spend defending our differences, the harder it is for us to let go and just be with another, enjoying the new perspectives to life that diverse viewpoints and lifestyles offer. If we over-focus on others' issues and under-focus on our own, we often provoke the behavior we do not want and polarize the situation.
– Change only happens when we begin to focus on working on ourselves—the only person in life we really can control.
Closing quotes:
"We must become the change we want to see in the world." — Mohandas Gandhi
"For having lived long, I have experienced many instances of being obliged, by better information or fuller consideration, to change opinions, even on important subjects, which I once thought right but found to be otherwise." — Benjamin Franklin
"Desperation is the raw material of drastic change. Only those who can leave behind everything they have ever believed in can hope to escape." — William S. Burroughs; 1914-1997. Novelist, poet of the Beat Generation, appeared on cover of The Beatles album, "Sgt. Pepper's Lonely Hearts Club Band"