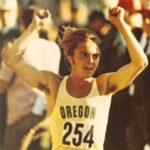 To give anything less than your best is to sacrifice the gift.
– Steve Prefontaine
How good do we have to be? How much is enough? We all are given certain gifts, areas of life that spark our energy, that get our juices flowing. Those things for which we need no discipline, that hold so much inherent joy that our souls spring forward to embrace it. This is our calling, our destiny. While it needs to be intelligently applied, there is much truth in the saying, "Do what you love and the money will follow."
We were not put on this earth to be cattle or sheep. We all have greatness of some sort within us. It is in finding and honing our greatness that we find meaning in life.
"Best" has many meanings: It can mean best parent, best spouse, best community member, best friend, the best you that you can be. It can also mean best at balance: Best overall, perhaps master of none but competent in all roles, best "jack of all roles." It would be difficult to over emphasize the need for balance, as every life needs meaningful time set aside for relaxation, recreation, recuperation, renewal. The finest machine needs downtime for maintenance and occasional overhaul and even the richest soil needs to lie fallow at times and recharge. Human beings do as well.
I like to think of recreation as re-creation. It is when I re-create my energies, re-create my commitment, re-create and re-charge my passion.
"Best" speaks to me most strongly in terms of "personal best." I cannot always aspire to be the best in the world at a particular task or role but I always can aim to beat my personal best, do better today and tomorrow than I did yesterday.
What is your best? Where are you giving less than your best? Is there anywhere in your life are you sacrificing your gift?
—————–
Steve Roland Prefontaine, nicknamed Pre,  (January 25, 1951 – May 30, 1975) was an American long distance runner. Prefontaine is considered to be among the greatest and most inspirational runners of the modern era by many of his fans, both during his lifetime and to this day. Prefontaine helped inspire a running boom in the 1970s along with contemporaries Frank Shorter and Bill Rodgers. Born and raised in Coos Bay, Oregon, Prefontaine was primarily a long distance runner who once held the American record in the five distance track events from the 2000 meters to the 10,000 meters. Prefontaine had one leg longer than the other (a common condition that does not affect running speed), and due to this he was told to give up on his dream of being the fastest runner on earth. He is known for his extremely aggressive "front-running" racing style and for always believing in giving a full effort. Prefontaine died at the age of 24 in a car accident. Source: Wikipedia
This is a classic from the NSC Blog archive. Originally posted April 2, 2008.