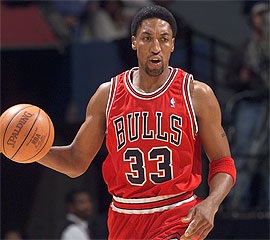 Scottie Pippen, a seven-time NBA All Star and six-time World Champion with the Chicago Bulls, was inducted into the NBA Hall of Fame in August 2010.
When Pippen graduated from high school there were no recruiters lined up to sign him, no agents clamoring to represent him. Not even junior colleges recruited him. Nobody. Nada. Pippen's high school coach called a friend at the University of Central Arkansas and asked that Pippen be given a chance. He was put to work as a team manager, cleaning out lockers and handing out towels, until a team position opened up mid-season. And the rest, as they say, is history.
From cleaning lockers at the University of Central Arkansas to wearing six NBA Championship rings. That is about as big a Cinderella story as you can imagine.
Start small, start where you can, get your foot in the door, build, build, build. From small beginnings great things can emerge.
Closing quote:
"So many fail because they don't get started—they don't go. They don't overcome inertia. They don't begin." – W. Clement Stone, 1902-2002