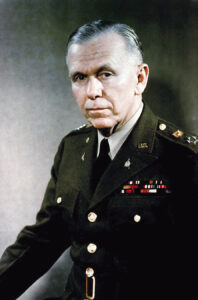 George Marshall (1880-1959) was US Army Chief of Staff during WWII and Franklin Delano Roosevelt's #1 military advisor.  As America's Secretary of State he lent his name to the Marshal Plan which rebuilt Western Europe after the war and he also served as Secretary of Defense. An incident in France, in October of 1917 lends insight into the personal strengths that enabled George Marshall to rise so far. General John J. Pershing had arrived to inspect the American Expeditionary Force: 
"Formidable and often frightening to many subordinates, Pershing was decidedly unhappy with the many failures he perceived…
In the midst of Pershing's harsh critique, a young captain stepped forward not only to defend his commander
 but also to hold Pershing's headquarters responsible for some of the division's problems. 
 A junior officer's rebuttal to "Black Jack" Pershing was breathtaking in its audacity and verged on insubordination.  
 Nevertheless, instead of relieving the officer on the spot, Pershing left after apologetically muttering:
Well, you must appreciate the troubles we have.'"
 – Wall Street Journal , 11/1/14 'The Organizer of Victory'
That junior officer was George Marshall, a mere captain with the courage of conviction that led him to speak truth to power. And as is frequently the case, courage was rewarded:
 (W)hile Pershing was "pretty hot" at being accosted by Marshall
he also came to respect Marshall's opinion and thereafter often sought it out:
"Eventually Pershing would make Marshall his top aide and
become his sponsor and patron through the AEF commander's long life." – ibid
 As a leader, I am amazed how often people are reluctant to speak up. Leaders need to know the gritty reality. Sugar coated presentations that gloss over hard truths eventually backfire. If you are in an organization that favors spin over honesty then I'd recommend you move on, both for your mental health and because when the downturn comes, when the economy gives a pop quiz, such truth deniers are at greatest risk, the slowest, most awkward responders to crisis.
 Yes, speak respectfully, speak with civility and diplomacy but speak up! Do your best to pick your time well; the team meeting is usually a better place to suggest major change than the huddle! Speak to facts, speak without personal agenda, do not attack or trash others, but speak your truth. Courage earns respect.
 Closing Quotes:
"Courage is what it takes to stand up and speak; courage is also what it takes to sit down and listen." – Winston Churchill, 1874-1965, Britain WWII Prime Minister, 1953 Nobel Prize for literature 
 "The most courageous act is still to think for yourself. Aloud."- Coco Chanel, 1883-1971, founder Chanel brand, only fashion designer listed on Time magazine's list of 100 most influential people of the 20th century
"Freedom lies in being bold." – Robert Frost, 1874-1963, most famous work: "The Road Not Taken" ("Two roads diverged in a wood, and I– / I took the one less traveled by") 
As always, I share what I most want/need to learn. Nathan S. Collier