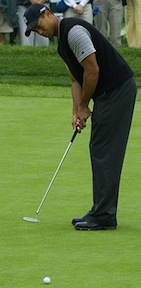 In golf, putting often makes the difference. But it turns out that there is more to putting than mere mechanical skill or athletic ability. According to Joan Vickers, a Canadian professor of kinesiology, "In the seconds before a stroke, duffers' eyes tend to dart around without purpose or function while elite players control their gaze." (The Wall Street Journal, March 23, 2012 "Why Scientists Love to Study Golf.")
This control is called "the quiet eye": when your gaze, still and calm, remains on the ball just before the stroke and as it is performed. This ability to quiet your mind and thus your eye, to totally focus and absolutely concentrate, creates a powerful mind/body connection.
The ability to quiet the mind, to steady the thoughts, to calm the emotions is a talent that can serve well in many of life's situations.
How to cultivate a quiet mind? Meditation is one answer and many excellent books have been written on how to mediate.
Personally, being a bit on the hyperactive side myself, I practice what I call "Moving Meditation." I play racquetball frequently—okay, 4 to 5 times a week. When I enter the court, my goal is leave the outside world behind, to think of nothing outside those four walls. Beyond that, I want to think only of the point at hand. If I win that point and the next and the one beyond that, then the game and match will take care of themselves. Even more than the point, I just continue focusing on the stroke at hand, the next play of the ball.
The ability to keep my thoughts inside the court is a powerful one, a form of self discipline and mind training that I believe carries over into other parts of my life as well.
Closing quote:
"For every disciplined effort, there are multiple rewards." – Jim Rohn, author