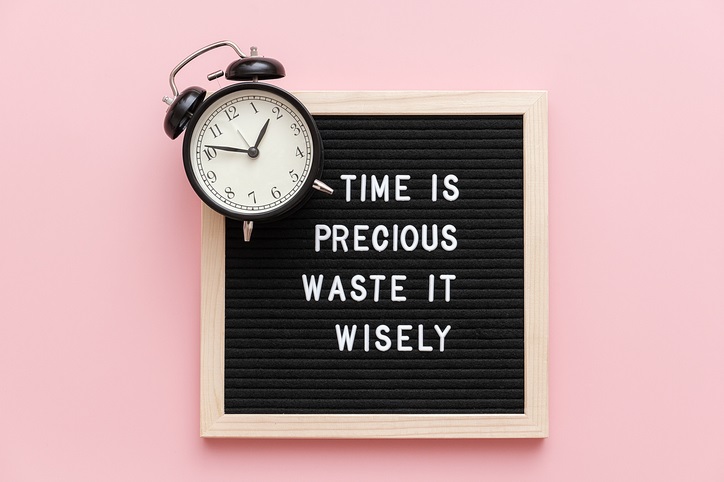 We all have the same 24/7; it is what we do with them that differ.
Organization: Plan your days, think through your week, know your month, have a strategy for your year. Big Rocks First! Schedule your most important priorities first, fit in EVERYTHING else around them.
Every yes is a no. Given limited resources, when you say yes to one thing, you are saying no to another. Become aware of what you are saying no to every time you say yes; do not let social pressure or the agenda of others control your yes's. All the time in the world is of little value if it is spent in pursuit of that which you do not value. Have written goals AND action plans for each of your six major life roles:
Family/Personal
Career/Financial
Physical/Health
Spiritual/Creative
Education/Mental
Social/Community
Self-Concept/Habit = Energy/Motivation: So easy when you want to, so hard when you don't. By the end of the normal work day, I'm often tired but by setting goals and planning, I usually find the energy to continue onward with activities that are enjoyable AND enriching versus succumbing to passive entertainment or ending up at happy hour. I plan exercise after work (Racquetball! I don't always "feel" like it after a hard or long day but because I've made a social engagement, I soldier on and when that ball comes at me, my competitive juices kick in) and surprise, surprise: I end up refreshed, rejuvenated, and re-energized afterwards, no longer tired! If you wait until you "feel" like it, you will accomplish little. Start and you will be delighted how often within a few minutes you've gotten "in" to whatever activity or task you've set for yourself.
Closing Quotes:
"Time is the coin of your life. It is the only coin you have, and only you can determine how it will be spent. Be careful lest you let other people spend it for you." – Carl Sandburg, 1878-196, won 3 Pulitzer Prizes
"If you want work well done, select a busy man — the other kind has no time." – Elbert Hubbard, 1856-1915, (Died aboard Lusitania, torpedoed by Germany during WWI)
"Time is what we want most, but… what we use worst." – William Penn, 1644- 1718, founder of Pennsylvania
As always, I share what I most want and need to learn. – Nathan S. Collier