Today's post is a short article from the sports page of the April 30, 2008, New York Times, that tells such a wonderful story I feel compelled to share it with you.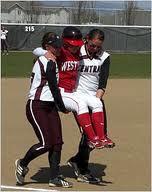 (Photo: Sara Tucholsky of Western Oregon being carried around the bases by Central Washington's Liz Wallace, left, and Mallory Holtman.)
A Sporting Gesture Touches 'Em All
By GEORGE VECSEY
(edited for length)
Something remarkable happened in a college softball game last Saturday in Ellensburg, Wash. At least, I am conditioned to think it was remarkable, since it involved an act of sportsmanship, with two players helping an injured opponent complete the home run she had just slugged.
The moment of grace came after Sara Tucholsky, a diminutive senior for Western Oregon, hit what looked like a three-run homer against Central Washington. Never in her 21 years had Tucholsky propelled a ball over a fence, so she did not have her home run trot in order, gazing in awe, missing first base. When she turned back to touch the bag, her right knee buckled, and she went down, crying and crawling back to first base.
Pam Knox, the Western Oregon coach, made sure no teammates touched Tucholsky, which would have automatically made her unable to advance. The umpires ruled that if Tucholsky could not make it around the bases, two runs would score but she would be credited with only a single.
Then Mallory Holtman, the powerful first baseman for Central Washington, said words that brought a chill to everybody who heard them:
"Excuse me, would it be O.K. if we carried her around and she touched each bag?"
The umpires huddled and said it would be legal, so Holtman and the Central Washington shortstop, Liz Wallace, lifted Tucholsky, hands crossed under her, and carried her to second base, and gently lowered her so she could touch the base. Then Holtman and Wallace started to giggle, and so did Tucholsky, through her tears, and the three of them continued this odd procession to third base and home to a standing ovation.
Where did it come from, this impulsive gesture by Mallory Holtman?
"She hit it over the fence," Holtman said Tuesday. "She deserved it. Anybody would have done it. I just beat them to it." She said she had been taught by her coach, Gary Frederick, that "winning is not everything." Knox, the Western Oregon coach, said the act "came from character…. They're playing for a coach who instills it," she said.
This is a classic from the NSC Blog archive. Originally posted May 2, 2008.