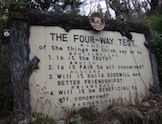 Recently The Collier Companies' Senior Team reviewed the final draft of TCC's Team Member Policy Manual, which contains standards of conduct to which we hold Team Members.
Andy Hogshead, our CEO, brought up to The Four-Way Test. The Four-Way Test is a simple but profound way to measure the things we think, say or do:
1. Is it the TRUTH?
2. Is it FAIR to all concerned?
3. Will it build GOOD WILL and better friendships?
4. Will it be BENEFICIAL to all concerned?
The Four WayTest was conceived of in the 1930s by Herbert J. Taylor; 1893–1978, who was attempting to save a distribution company and its 250 employees from bankruptcy. Facing a crisis and needing to turn around a enterprise who members had lost hope, Mr. Taylor wrote this simple but powerful test. In his own words: "If the people who worked for Club Aluminum were to think right, I knew they would do right. What we needed was a simple, easily remembered guide to right conduct—a sort of ethical yardstick—which all of us in the company could memorize and apply to what we thought, said and did."
Later adopted by the Rotary Club when Mr. Talyor was an international director, the test remains today a central part of the Rotary Club creed and is held as the standard by which all thoughts and behavior should be measured. (source:  Wikipedia)