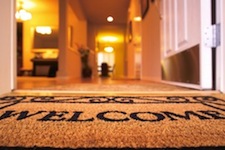 We do these things because they are the right thing to do. And because we know no other way.
I am obsessive about neat and clean. My company manages apartment homes; it is important to me that the grounds be kept neat and clean, free of litter, that the clubhouses be tidy, the restrooms inviting, waste cans emptied regularly, soap dishes full, paper towels stocked, hallways blown clear, spills cleaned up, service requests handled promptly and completely. You get the picture.
It was relayed to me that a manager once asked, "As long as we are making our financial plan, why should the owner care if the welcome mat has been vacuumed?"
In the time it took to scrape myself off the ceiling, I thought about my reply. I could say that cleanliness is a kind of leading indicator. "You might be making plan now but a sloppy appearance could go a long way toward driving prospects away and making sure you don't make plan next year."
But the answer that resonated most with me was, "We keep things clean because it is the right thing to do. It's the right way to treat our Customers, the right way to run a business." The money is a by-product, not the primary motivation. We strive to do well because it bugs us too much when we don't get it right. We care, we are wholeheartedly committed to quality and excellent customer service, and good enough never is.
We are not immune to financial pressures. No margin, no mission: if you don't make a competitive return, you will not be in business long. However, we believe that people appreciate and will pay for good service cheerfully delivered in a friendly way, along with a quality product that stands the test of time.
We strive mightily to do these well because they are the right thing to do and we know no other way.