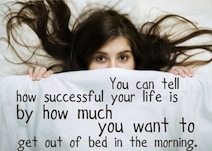 生き甲斐 translates from Japanese as ikigai (pronounced ee-ki-guy), which means "reason for being" Or put another way,
– What gets you bounding out of bed bursting with energy?
– What gives your life deep meaning and purpose?
Why DO you get out of bed in the morning? If it is just to pay the bills, then you may be missing out on much of life's joy.
Doing what you are good at brings you success, doing what you love to do brings you happiness. We all need to eat. A life of bliss is challenging on an empty stomach. Finding the right blend, the right career path that supports your personal calling is a process of experimentation, reflection, and ever-evolving self exploration. While serendipity is frequently involved, a life of significance is rarely accidental.
People who believe that their lives are worth living live longer and are generally happier, have more friends, and are more physically fit. Correlation is not causation but it is nice to have one more reason to live a life of meaning.
Closing quotes:
"When you wake up in the morning, Pooh," said Piglet at last, "what's the first thing you say to yourself?"
"What's for breakfast?" said Pooh.
"What do you say, Piglet?"
I say, "I wonder what's going to happen exciting today?" said Piglet.
Pooh nodded thoughtfully. "It's the same thing," he said.
— A.A. Milne; 1882–1956
"The unexamined life is not worth living."  — Socrates; 469 BC–399 B.C.
"The meaning of life is a question life asks of us, not one we ask of life."  — Victor Frankl; 1905–1997, "Man's Search for Meaning"