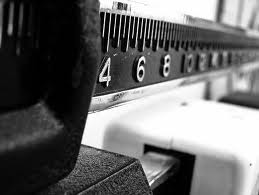 We own our lives, we own massive amounts of our future. It is ours to impact, to create.
We often underestimate the cumulative power that even small actions can have on our lives. I graduated from high school at 150 pounds and I have spent the next 40 years of my life at that weight, plus or minus 2 pounds. This morning I weighed 150 1/2 pounds. In large measure I attribute that steady weight to a single action repeated more that 10,000 times. Virtually every morning for the past 30 years I have weighed myself.
Obviously, I took action based upon the feedback I received:
– Exercised more
– Modified my eating habits
– Ate less
– Ate slowly
– Drank more water
– Put down my fork between bites
– Deliberately chose health, fitness, and long life over desserts
– Used smaller plates (I use a dessert plate at buffets because it is the smallest plate available) to help me choose smaller portions
– Organized my social life around non-food events, avoided long sit-down dinners
– Chose more veggies and fruit
– Chose fewer processed foods
– Ate no fried foods
– Avoided calorie-dense foods (less filling for the amount of calories consumed, such as dried fruit)
I also have made a conscious mental decision to see all of this as an investment in health, not to see it as a sacrifice. I choose to see myself as "living smart," as briskly, cheerfully walking toward a shining future of glowing health.
Stepping on that scale every day, 10,000+ times, was a vital part of the process. It motivated tiny daily corrections that helped me stay on course, gave me virtually instant feedback when I strayed.
Closing quotes:
"Every disciplined effort has multiple rewards." — Jim Rohan, entrepreneur and author; 1930-2009
"There is very little difference between people but that little differences makes a BIG difference." — W. Clement Stone, businessman and philanthropist; 1902-2002
"The golden opportunity you are seeking is in yourself. It is not in your environment, it is not in luck or chance, or the help of others; it is in yourself alone." — Orison Swett Marden, writer and physician; 1850-1924