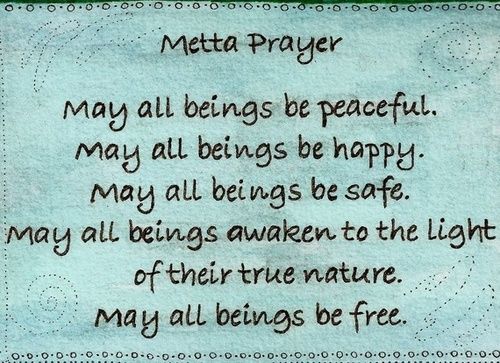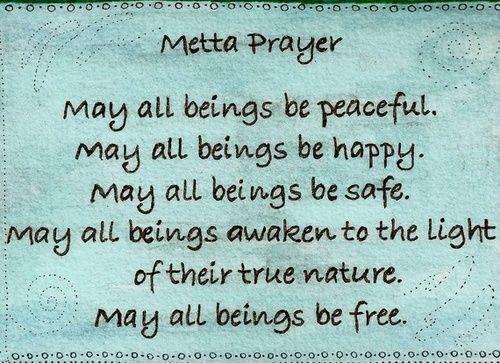 Have you ever longed for "peace of mind"? For quiet contentment? To still the monkey chatter in your mind, to quiet your internal critic or at least morph it into a cheerleader/positive coach? Ever wanted to see a more peaceful world, escape the treadmill of drama that can so easily hijack our attention?
Metta! Try it! Metta translates as "Loving Kindness" and refers to an attitude toward life. "Metta evokes within a warm-hearted feeling of fellowship, sympathy and love, which grows boundless with practice and overcomes all social, religious, racial, political and economic barriers. Through Metta one refuses to be offensive and renounces bitterness, resentment and animosity of every kind, developing instead a mind of friendliness, accommodativeness and benevolence which seeks the well-being and happiness of others."
Much of our internal discord comes from our world view and in many ways we create our reality by the things we choose to pay attention to, the thoughts we invite into our minds, and the emotions that result. Metta is a way of thinking, of directing our energy and attention and thus our mental state or attitude, cultivated and maintained by the deliberate, focused practice of monitoring our thoughts by ever growing self-awareness.
Closing Quotes:
"My religion is kindness." – Dali Lama
"I am responsible for the world I see." – A Course in Miracles
"Whatever we are waiting for – peace of mind, contentment, grace, inner awareness – it will surely come to us, but only when we are ready to receive it with an open and grateful heart." – Sarah Ban Breathnac
"When I am able to resist the temptation to judge others, I can see them as teachers, reminding me that I can only have peace of mind when I forgive rather than judge." – Gerald Jampolsky
"When you've seen beyond yourself, then you may find, peace of mind is waiting there." – George Harrison
"Work and live to serve others, to leave the world a little better than you found it and garner for yourself as much peace of mind as you can. This is happiness." – David Sarnoff 1891-1971
As always, I share what I most want and need to learn. – Nathan S. Collier